We are working to provide expansion boards for many different extra functionalities. Currently we have a stepper control board (MCB-STB) and a break out board (BOB) to interface the IHB with your hardware or for debug purpose.
Stepper Control Board (MCB-STP)
The Stepper Control Board (MCB-STP) extends the functionality of IHB providing a bipolar stepper motor driver. The board can deliver 1.5A per coil (up to 2.2A with proper additional cooling), acquire signals from an incremental encoder and measure currents flowing in each phase. Additional boards can be stacked with a single IHB impementing a compact and embeddable multi-axis stepper motor control system.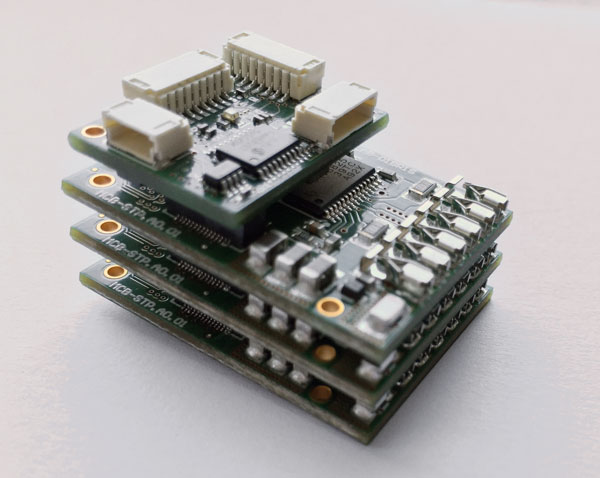 Power Out Board (POB)
Power requirements for the system are guaranteed by the Power Out Board (POB) that is able to provide stable current to the IHB Boards from an input voltage ranging between 6V and 24V. Each POB board provide a daisy chain connection to a CAN Bus to provide connectivity up to 8 differente IHB.
Input Voltage: 6V – 24V
Output Voltage: 5V
Output Current: 2A
Break Out Board (BOB)
Additional I/O can be accessed during development using a break out board. The board size can be reduced by cutting parts that are not needed.